Honey Lemon Loaf   In a medium sized bowl, whisk together 1 ½ cups flour, 1 ¾ tsp baking powder, ½ tsp baking soda and ¼ tsp salt.  Zest a large lemon (2 tsp.) and add to this mixture. In another bowl, put ½ cup honey (I used our blueberry blossom honey) and mix together with 3 eggs, 2/3 cup of plain yogurt and 1/3 cup of vegetable oil.  For extra lemon flavour, you can use ¼ cup of oil and add ¼ cup juiced lemon. Stir the flour mixture in 2 additions to the wet mixture and gently mix...
---
Fall is a perfect time of year to make this beautiful dish as many varieties of squash are readily available.  I chose Buttercup Squash for its mild buttery flavour and smooth finish  but you could easily use acorn, butternut, hubbard etc.  I paired it with our blueberry honey, however, any of our delicious honey would work with this recipe   Recipe: To make the puree:  Cut the squash into pieces (quarters), seed and scrape out the stringy bits.  Place in a baking pan and add ½ cup of water, cover with foil and roast at 350 F. until very tender...
---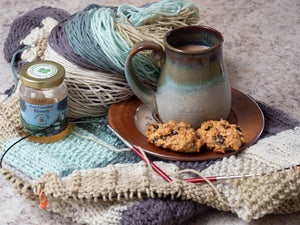 Peanut Butter and Honey Cookies Ingredients: 1 cup peanut butter (can use almond butter if you prefer)½ cup honey – I used blackberry blossom1 Tbsp. vanilla extract2 eggs1 cup rolled oats (gluten free if you want them gluten free)½ tsp baking powder1/8 tsp salt1 cup chocolate chips In a mixing bowl, cream together the honey and peanut butter using a fork or whisk .  Then beat in eggs one at a time and the vanilla. Next stir in the oats, baking powder, salt and chocolate chips and mix well. Using two spoons, scoop small golf ball sized cookies onto parchment...
---
1 Whole Duck 1 Orange cut in half 2-3 Tablespoons Honey (Blueberry honey tastes great with this recipe) Salt and Pepper Fresh Thyme Preheat oven to 425F. Fill the cavity of the duck with a couple squeezes of the orange, and then stuff the duck with the two halves of the orange and fresh thyme. Salt and pepper the outside of the duck.  Put the duck in a roasting pan and into the oven for 20 minutes to crisp up the skin. Then turn the oven down to 370F and bake another 40 minutes. Basting once or twice.  Take duck...
---
• carrot recipes • Honey glazed carrots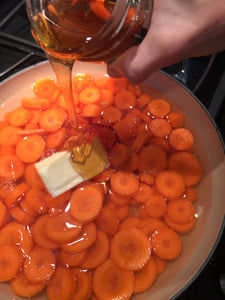 Honey Glazed Carrots 3-4 medium carrots 4tbsp butter 4tbsp honey salt and pepper    Cut the carrots into half centimeter rounds. In a large fry pan add carrots, butter, honey and salt and pepper, then add enough water to cover carrots. Boil on medium high until all the water has evaporated and carrots are a golden glazed colour.  *optional-can add freshly cut parsley for the last 2 minutes of glazing.